Starting up a blog is harder than you may think. Wicked.
My name is Micchi. Okay, that's not the name my parents gave me. (Hi Mom, Dad!) But it is the name I use often, especially online, so it's the name I'm using here.
I'm a 25 year old high school graduate, no college education. I've got a smart-ass sense of humor, self-taught smarts that are probably just right enough to make me dangerous, medical problems to bore you to tears, and most importantly, a passion.
I discovered this passion by accident. It started wanting to cash in on making jewelery for Asian Ball-Jointed Dolls, and from there...well, I learned a lot. Mostly that I needed to go back and start from basics. So I made a few pairs of earrings.
I made a few more.
And I realized...I liked this. I really, truly liked this.
So here we are today. I've applied for a business license and am waiting on the paperwork for that. I've registered an Etsy shop, a Facebook page, and a Twitter. And well, this blog. I've got file folders for my paperwork.
I'm really going to be doing this, and nothing will stop me. It's kind of frightening, on the one hand, and a lot liberating on the other. I have no doubt I
can
do it. I know my jewelery is unique enough to catch eyes, but not so unique that I'll be stuck with a tiny market.
I should actually show some examples, shouldn't I!
Sterling Silver, Amethyst & Hematite


I made these for a friend recently. I cannot wait to get my hands on more sterling to work with.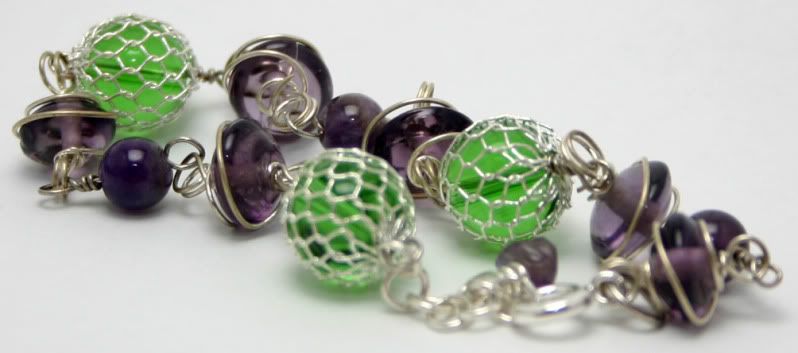 Glass amethyst & glass peridot
This bracelet was a blast to make. It's been shipped off to another dear friend, as a gift to one of her friends. I'm excited to have my designs out in the great wide world.
Freshwater Pearls, Garnet, Glass Leaves


The last one for now. I love working with pearls, and the garnet adds just a little extra touch. These were hard to give up. Really, really hard.
All in all...I'm still stumbling my way through. I've got to work on my stock, get it built up, see where I am from there.
But by god, despite the nay-sayers, I'm doing this and that is all there is to it.